The recent vaccination drive is showing us the way out of the pandemic. Restrictions are lifting, and businesses are starting to reopen their workplaces to employees. Managing a safe and efficient return means adapting to the new realities the pandemic has left us with. But thanks to the vaccine rollout, a new tool is now available, Covid-19 vaccination tracking.
The health and safety of staff remain paramount, but post-vaccination the risks are lessened, and we can start to get back to how things were. Unfortunately, employers are stuck in the unenviable position of weighing up safety concerns with the practicalities of running a business. Covid-19 vaccination tracking can help companies reimagine their sign-in process and optimise how they reopen their workplaces.
Safety protocols of some form will remain in place for a long while to come, and by now, we are all familiar with the "new normal". Whether it is: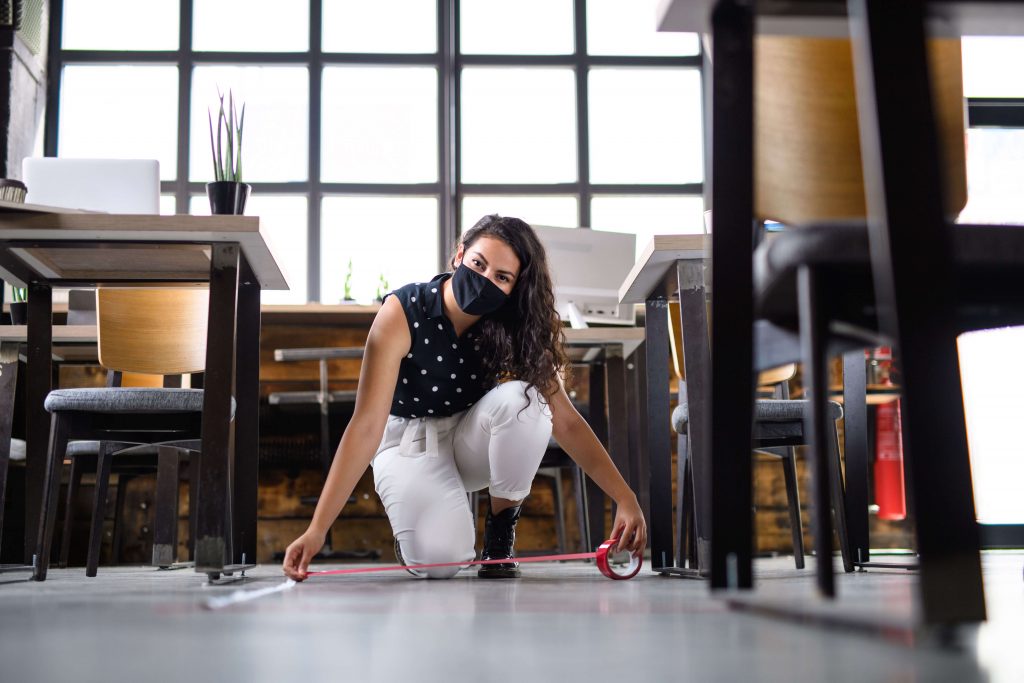 Social distancing,
Mask wearing,
Increased ventilation,
Temperature checks,
Hand washing stations,
Heath screening questionnaires,
Or track and trace,
Companies have had to learn new approaches to adapt to life with COVID-19. Thankfully vaccines have put us in a much better position, and tracking employee vaccination offers companies a chance to get the "new normal" closer to the old normal.
UK Vaccination Success
The UK has been at the forefront of global vaccination efforts. As of June 14th, 71,672,208 doses have been administered, with almost 80% of the population over 18 receiving their first dose.
Not only do vaccines offer protection against Covid, but they also reduce transmission of the virus. Studies by Public Health England (PHE) released at the end of April showed one dose of Pfizer or AstraZeneca reduces the likelihood of passing the virus to unvaccinated household contacts by 38% to 49%.
The fact is vaccines protect your health and protect the health of the people around you. These benefits are allowing us to reopen society and enabling companies to welcome employees back to the workplace. Covid-19 vaccination tracking helps employers determine the best safety procedures to put in place for their workplace.
Tracking Employee Vaccination During Workplace Returns
Getting back into the workplace is a significant step on the path back to pre-pandemic life. It's essential to consider the risks involved once employees are back mixing in the same location. Risks are complicated by the added threat of new, more transmissible variants. Figuring out the best approach will be a headache for businesses. We've compiled some of our best tips to help reopening businesses here.
Developing a new sign-in process is an essential part of reopening. Companies require health and safety procedures from the moment employees arrive at work to reduce the risk of an infected person entering and possibly spreading Covid.
Whatever your approach will be, it seems strange not to consider Covid-19 vaccination tracking as part of the process. We know that the risks are different post-vaccine, and Covid-19 vaccination tracking allows companies to optimise their space and resources such that employees can return safely in a practical way.
All employers want the same thing, return their workforce safely and efficiently. Tracking employee vaccination statuses informs all the other decisions that have to be made around safety procedures.
Benefits of Tracking Employee Vaccination
The benefits of implementing Covid-19 vaccine tracking in your workplace are numerous.
Determine the best health and safety protocols specific to the user groups that enter your facilities
Track employee vaccination status easily by filtering your employees into different user types e.g. vaccinated and unvaccinated users
Streamline the sign-in process by customising the process for each user type, adding the relevant steps including questionnaires and mask detection
Filter the email alerts that system admins receive by user type
I think we can all agree it's been a difficult 15 months, but vaccines are starting to get us back to something resembling pre-pandemic life. By using Covid-19 vaccine tracking at your business, you can help make your workplace an efficient, welcoming environment for your staff to return to.
Covid-19 Vaccination Tracking using LamasaTech's Zentron Sign-in Kiosks
LamasaTech's range of Zentron kiosks is the perfect solution for adapting your companies sign-in process to the post-Covid world. The non-contact kiosks automatically measure temperature in seconds to identify individuals with abnormally raised temperatures that could signify infection. This allows businesses to screen all individuals, visitors and employees, when entering your place of work.
Ideal for the entrance to:
offices,
factories,
healthcare settings,
shops,
hotels,
schools,
and many more places of work.
Employees sign in with access cards or fobs using the kiosk's built-in RFID reader. Optional facial recognition for registered individuals is also available.
Zentron kiosks are powered by Visipoint sign-in software that allows you to customise the sign-in journey for your employees and add compliance checks such as:
Health screening questionnaires using simple gesture recognition (e.g. thumbs up or thumbs down)
Detecting individuals not wearing masks,
Or ID badge printing for visitors.
Receive automated email alerts for abnormal temperature measurements or compliance check failures.
You can even use Zentron kiosks to create an internal track and trace system for your company. Log entry times and temperature readings for everyone who enters your facilities and determine who was present each day.
And now, you can add Covid-19 vaccination tracking to the sign-in process at your business.
Online Vaccine Tracking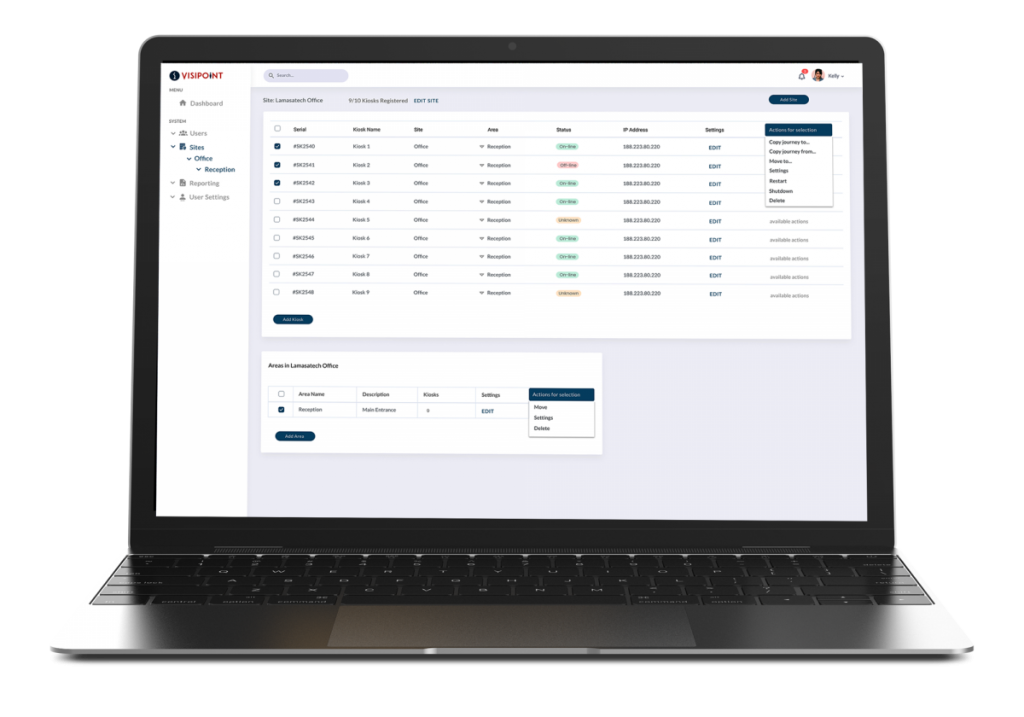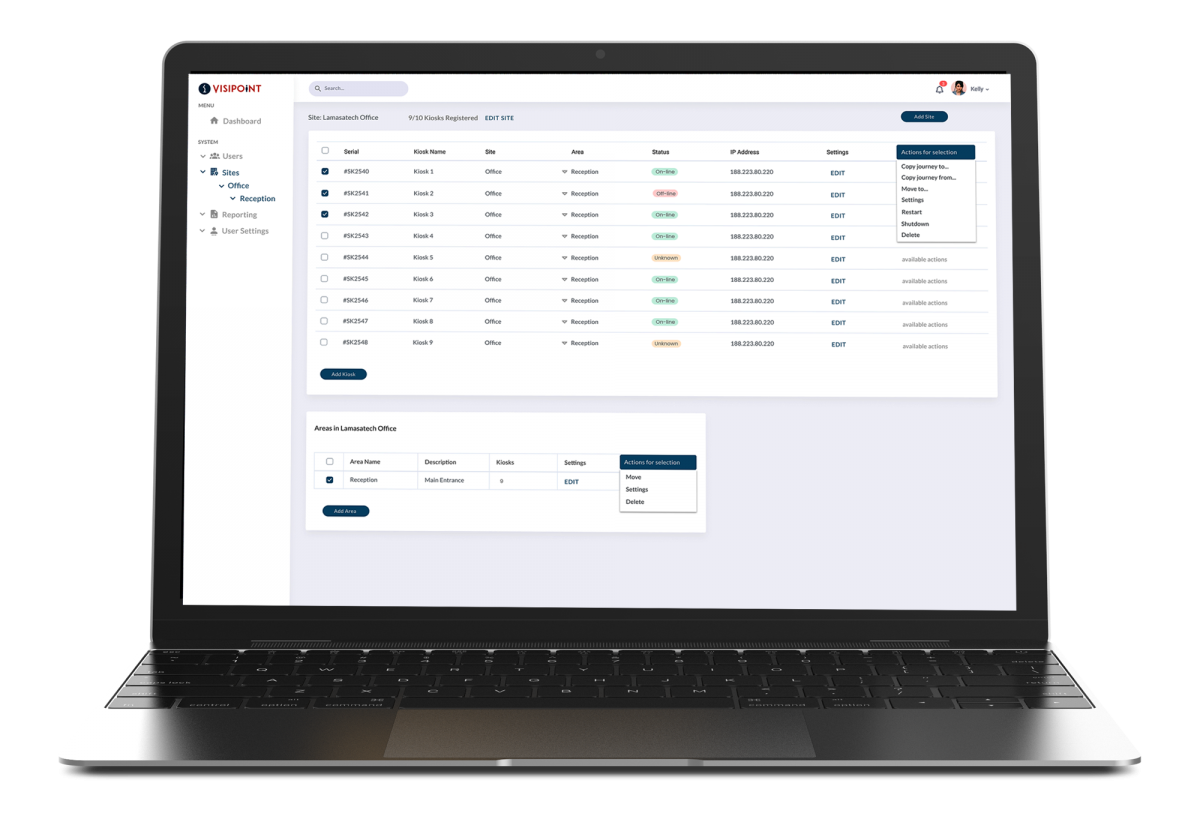 Tracking employee vaccination can revolutionise how you manage the reopening of your workplace. Set up different health and safety protocols based on the specific vaccine status of an employee. There may be work procedures or environments that you only consider safe for vaccinated staff. Or maybe vaccinated staff can bypass health questionnaires and temperature checks upon entry.
However, you choose to implement Covid-19 vaccine tracking at your company; the Zentron kiosk gets you where you need to be.
Custom user types and the compliance check builder will help you to address covid-19 vaccine tracking in the workplace.
Custom User Types
Build distinct user types based on vaccination status (e.g. unvaccinated, one dose, two doses) and change the sign-in process for each. For example, you may want unvaccinated users to answer a health questionnaire on entry, but you may decide it's not necessary for vaccinated users to answer the questionnaire.
Compliance Check Builder
The compliance check builder allows you to add agreements (1 question) or questionnaires (multiple questions) into the sign-in process. Users answer using a contactless gesture recognition process, where they hold a thumbs up or thumbs down in front of the camera. For example, you could add a step requiring staff and/or visitors to declare if they have been vaccinated.
Online Vaccine Tracker from LamasaTech
Learn more about our online vacciine tracker and see how you can improve the safety procedures for your workplace.