You can empower your visitors to support your museum or culture venue in entirely new ways with the help of self-service fundraising!
We recently attended the North East RAISE event at the Discovery Museum which focused on innovative methods of raising funds for your museum. Throughout the whole event, the necessity of self-service fundraising was a prominent talking point.
So, we thought we would take you through some of the best ways in which your museum can embrace self-service methods of raising funds and boosting revenue, and some of the other ways self-service fundraising can positively impact your museum.
Your museum may focus on celebrating history and heritage, but that doesn't mean your fundraising methods have to be stuck in past. With so many options to encourage visitors to donate to your museum now available, there really are incredibly few limits on the ways to encourage digital donations.
Let's explore some of the most engaging, versatile – and perhaps most importantly – convenient methods for self-service fundraising in this infographic!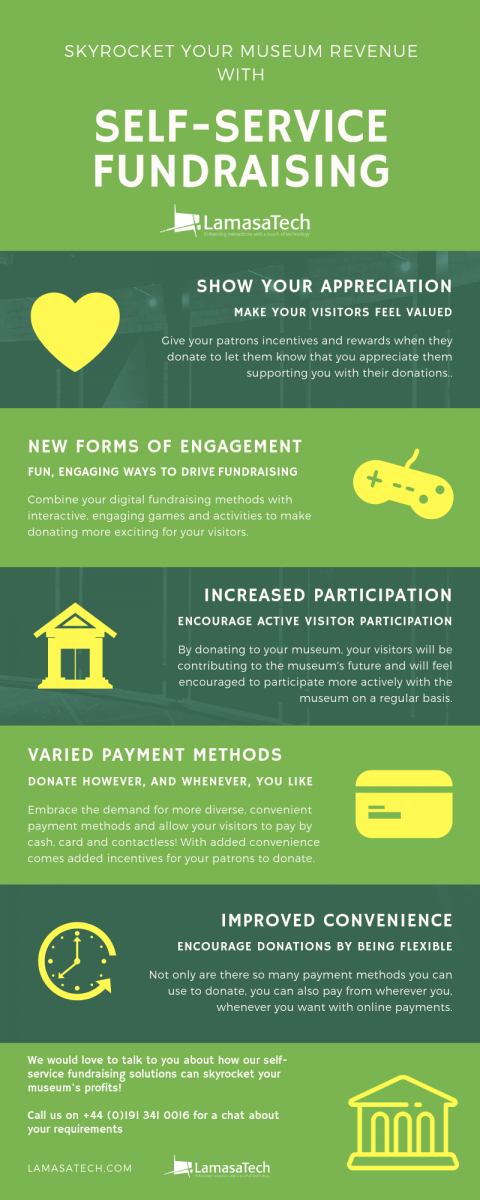 Want to learn about self-service fundraising and the ways in which it can skyrocket your revenue in more depth? Read on to find out more!
Self-service fundraising is much more convenient
There's a lot to be said for the convenience factor when it comes to making payments. Just look at the proliferation of contactless payment methods across the world over the past few years.
Visitors are not limited to in-person fundraising, and have a huge amount of methods by which to donate to and support your museum. Offering a breadth of payment options allows visitors to feel as though they're being catered to more directly and that they aren't having to go out of their way in order to donate, thus making a donation more likely.
You can utilise a wide variety of payment methods
One of the biggest advantages of adopting self-service methods of raising funds for your museum is the ability to use multiple payment methods. You can easily allow your patrons to pay whichever way they prefer, including:
Card payments, either on-site on online
Contactless payments using cards as well as Android and Apple Pay
Cash donations, so that patrons who wish to adopt a more traditional method of contributing to the museum don't feel alienated
This breadth of payment options allows you to make all of your patrons feel like they have the ability to contribute to your museum and ensure that you don't make any of your visitors feel left out.
Self-service fundraising can create new forms of engagement
A lot of museum curators and managers are excited about the prospect of self-service fundraising, but don't want to invest money and resources into entirely new exhibitions to facilitate this. By combining digital fundraising methods with existing aspects of your exhibits including interactive games and activities to make your visitor's museum experience more exciting and the idea of donating a more compelling proposition.
Want some great tips on drastically improving your museum fundraising? Check out our blog on 3 top tips to increase donations digitally
Increased participation and make visitors feel appreciated for their donations
By donating to your museum, your visitors will be contributing to the museum's future and will feel encouraged to participate more actively with the museum on a regular basis.
A great way to do this is to provide your patrons with incentives and rewards when they donate to let them know that you appreciate them supporting you with their donations. There are so many methods by which you can make your visitors more engaged, including:
Interactive games which can create a stronger connection between visitors and your museum
Customisable exhibits – encourage your visitors to donate to your museum with the ability to leave their mark on an exhibit
Loyalty schemes and membership plans that encourage them to make return visits
There are so many ways in which self-service fundraising methods can profoundly improve your ability to generate revenue from existing sources, as well as creating new and exciting ones that your patrons will love! This is by no means an exhaustive list of all the options available, and we'd love to discuss your requirements for a self-service fundraising solution! Read on to find out how…
Want to learn how your museum can see its revenue skyrocket? Get in touch! We would love to discuss with you the ways in which our digital self-service fundraising solutions can help hugely improve your museum's revenue generation.
No matter what stage you're at in your self-service fundraising project, we'd love to help you move it forward. We'll talk through your requirements with you in detail, suggest the ideal hardware and software for them, and support you as your solution is set up and installed, as well as offering comprehensive customer support and updates.
Head over to our contact page or call us on +44 191 341 0016 for a chat about your self-service fundraising requirements!