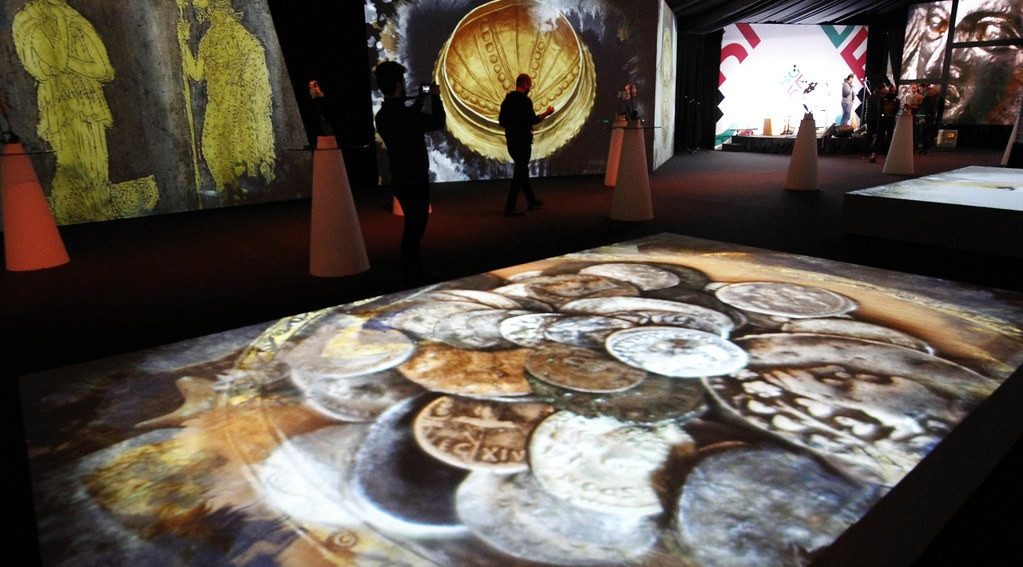 How do you go about creating digital exhibitions that keep visitors engaged and compelled to explore more of your museum? Let's find out!
As we continue into the digital age, it's no surprise here that art museums, history museums, and nature museums alike want to capture the attention of their younger patrons. It's not easy identifying with the new generations, who are growing with a tablet or smartphone in their hands at all times.
How do you market to a younger audience in the digital age? It's all about creating digital exhibitions by incorporating technology seamlessly with the museum experience. Let's run through what got us here as well as the smart and digital experiences that are impressing guests at any age:
Museum visits down
A recent report by the Department of Culture, Media and Sport (DCMS) found that we're seeing a total decline in visitor numbers since the 2016-2017 year. In fact, the National Portrait Gallery is down 11% in visits and the National History Museum is down 14%. The reason behind this must be the lack of interactive digital technology incorporated in these museums. It's now up to the museums to invest in such technology and to engage and attract the mass market when they're trying to decide on a museum to attend.
I'm not just talking about the common touch-screen you see at the corner of a museum exhibit. There are plenty of options available now. It's all about curating the right technologies for your museum guests, who are now likely the Millenials and Generation Z'ers. Technology is at the forefront of their lives, and it would be at a higher cost for you not to have these technologies at your guest's disposal. Guests of all ages will be able to immerse themselves in learning while attending your museum.
Here are some examples of the awesome technology that has been employed in creating digital exhibitions that can transform your patron's museum experience:
Augmented reality
Recently, the Detroit Institute of Arts introduced the Lumin AR Tour in 2017. The museum went about creating digital exhibitions that use handheld devices which are available for patrons inside the museum building. The guests point the device at certain museum sculptures, paintings, and other artefacts, and are able to learn more about them from where they are standing. What comes up is a pop-up snippet full of information, descriptions, and more photographs of the particular object or exhibit. Patrons can even "x-ray" a mummy with the device. Never before has the usual museum guest been able to see inside and out quite like this.
The device is also helpful for navigating the large museum. It works by a simple touch of the interactive map area of the patrons choosing. Then, dots appear, guiding the patron to the location they are looking for.
Creativity + interaction
The Cleveland Museum of Art now has the ArtLens Interactive Studio, where there is a variety of digital screen-based activities all in a room within the large gallery. These screen-based activities require physical movement in order to operate, so you know kids will be getting play-time simultaneously. The activities include virtual painting, collaging, researching artists, front-camera self-portraits with editing capabilities, virtual pottery, using AI to draw and match shapes to items within the gallery system.
Yes, we've seen interactive displays before, but this takes it to another level. The ArtLens Interactive Studio takes away the conventional touchpad and instead immerses the player in the physical movement of the body. It is also a more social way to learn about the collections since it involves collaboration with others.
An immersive museum experience
The National Museum of Singapore is making headlines with its "Story of the Forest" exhibit.  From the outside, you may not notice anything, but from the inside of the exhibition, they take patrons down a spiralling and sloping walk, with large digital screens taking space along the curved walls. You get an animated display of a forest. You then combine this with a special app you can download and find more information about the animals of the forest by clicking on them. You find out their habitats, diet, and what levels of endangerment they may fall on. You're also taken to a central dome, to relax, lie down, and take in a beautiful view of the forest's ceiling from down below. This exhibit is a wonder for guests of all ages and has certainly set the bar for other museums to incorporate interactive digital displays moving forward.
Modern art gets a digital transformation
The Museum of Modern Art (MoMA), in New York City, gives patrons "an unauthorized gallery concept aimed at democratizing physical exhibition spaces, museums, and the curation of art within them."
This exhibit was created by eight internet artists at the MoMA in NYC. They used augmented reality to overlay animated content over artworks already featured in the Jackson Pollack section of the gallery. You simply go on your mobile app and access it. It's something that has made a debate, yet brought together a new reality over a protest against elitism. It highlights social issues by showcasing virtual vandalization.
A 360 view
At the Renwick Gallery in Washington D.C., the cart comes to you! The museum curated a special app, Wonder 360, allowing visitors to view the exhibition in 3D panoramic views. You can also see video interviews with artists as well as the museum's curator. For as little as $8, you can view the exhibit with a VR viewer to take in Wonder. With this view, you can transport sculptures to an event with their 4,000 square foot gold event space.
Putting museums on the map
Museums integrating these digital displays of art and curiosity are now seeing museum numbers climb. It's no guess, the advance in digital technology available to museum patrons becomes a show-stopper in any city or country. From digital forests to virtual reality, these new digital exhibitions are here to stay. Digital technology is only getting more and more museums on board as they attract a younger crowd. One that is here to stay for a very long time as museums transform into the digital era. Long gone are the paper brochures as we welcome interactive technology to our culture and society.
Do you need some help creating digital exhibitions that are truly enthralling to your visitors? We'd love to talk to you!
Head over to our contact page or call us + 44 (0)191 341 0016 for a chat about how we can help you to digitise your exhibits and help your museum grow!