A video wall is made up of multiple monitors which have been tiled together to create one large display. The benefits of video walls can impact all across your business. From corporate offices using them to present welcome messages in their reception, to retailers promoting their latest products on in-store displays, to control rooms showing a range of data across the wall.
It's no surprise then that the global video wall market size is expected to grow significantly in the next few years, reaching $37.26 billion by 2025. Businesses aren't just introducing video walls because they make a statement, but because they are an excellent communication tool. Keep reading to find out the benefits of video walls and why you should implement this technology.
In a hurry, jump to:
Advertising
The most well-known benefit of video walls is how they can improve your advertising reach. As an advertising tool, video walls are one of the most effective around. Due to their large size, they can draw the attention of anyone in the nearby area. This helps you to communicate your message and branding to your potential customers. For example, as seen in the image below, your video wall could be placed at your storefront facing outwards to communicate with passersby. On this, you could display an advert promoting your newest product or an announcement of an upcoming event. Whatever it is you are looking to communicate to your audience, a video wall will help you to reach more people compared to traditional print advertisements due to its attention-grabbing nature.
The benefits of video walls you'll see here are that you'll be able to more effectively convince your customers to purchase specific products. Research indicates that over 40% of shoppers say that video walls can change what they buy. Implementing a video wall can therefore help you to increase the sales of your current key products.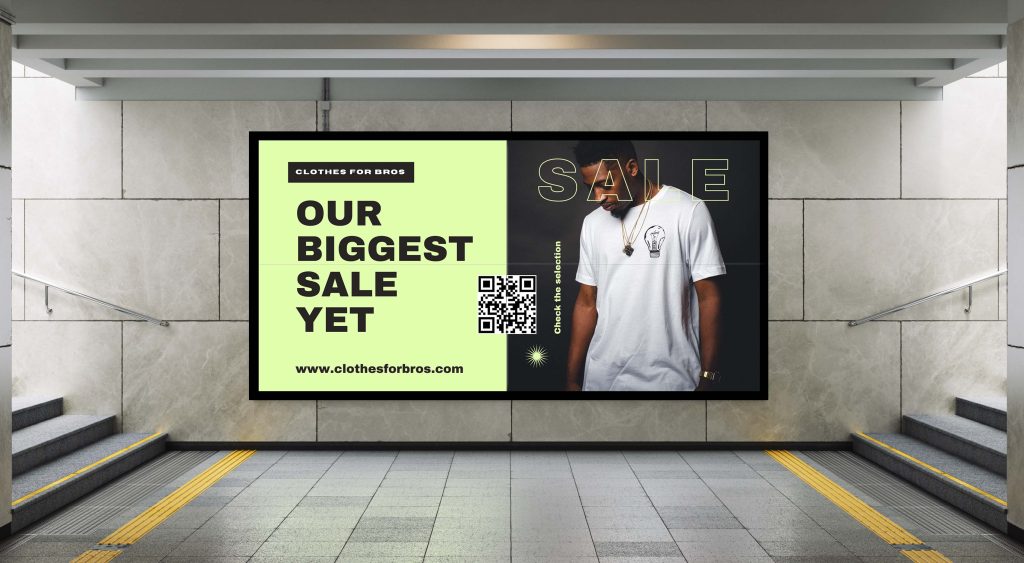 Another benefit video walls could provide to your business over print advertisements is motion graphics. A video wall would allow you to add movement to your advertisements, whether that be a simple transition between images or animation of your product. Movement in your advertisements will help you to draw the attention of passersby to your store over a nearby competitor using static adverts. This is because when walking by, the movement will stand out to potential customers drawing their initial attention.
Once you've got their attention though you don't have long to communicate your message. It is now believed that the human attention span is just eight seconds. By presenting a video to your audience though, you are able to communicate your message much quicker than if they had to read over a static advertisement. With a video wall, you'll be able to quickly communicate your message before your audience's attention is lost. The benefit you'll see here is that potential customers will retain your message and be more likely to return to your store in the future.
Internal communication
Although many people recognise this technology as an advertising tool, another benefit of video walls is that they are just as effective for internal communication use. Just like with their external communication use, video walls are a great way to communicate a message to a large number of people. For example, you may have a number of employees in a workspace relying on up-to-date information. With a video wall, you can display all of the relevant data to the entire workforce simultaneously. This will help you to achieve greater collaboration and help your team to work as a unit to respond quickly to developments.
A video wall could also help keep your staff informed of relevant information such as current targets and KPIs or recent successes. A study by IBM found that 80% of employees felt more engaged when they received consistent communications around their employer's core values and mission. Placing a video wall in a high-traffic location for your employees will help you to ensure they are kept in the know about the business and what it is they are working towards. As a result, the benefit of your video wall will be increasing the motivation of your staff.
Multi-source display
The ability to present content from a number of different sources at the same time is also one of the benefits of video walls. This is possible thanks to these displays being made up of multiple different screens. It is important to mention though that to achieve this and show content from more than one source, you may need a video wall controller. Click here to learn more about this device and how it can help you to get the most out of your video wall.
A video wall controller tells the video wall what sources to display in each section of the display. A common example of this in practice is in a control or security room where a video wall is used to show footage from different security cameras. As shown in the image below, you could also present data from different sources helping you and your staff to analyse the data side-by-side and find patterns much easier than if they were on smaller, separated screens.
Simple controls
You may be thinking that managing a video wall and its contents will be a difficult task. However, a valuable benefit of video walls is their ease of use. As mentioned above, a video wall controller can help you to arrange your content however you'd like on your display. The software on the device will scale your content to the screen size saving you the hassle of making these adjustments. This will help to ensure that your content is displayed in the best possible quality without you having to lift a finger.
When it comes to managing your content, you may want to look for a digital signage tool. This will help you design and then push that content to your video wall. For more details on the best digital signage tool around take a look at this blog post.
A digital signage platform such as PeakSignage has a very easy-to-use drag-and-drop interface, as seen in the image below. You can place the different elements of your content anywhere you like, giving you complete freedom. You also get access to powerful widgets such as a scrolling message board and news feeds. Once your design is done you simply select the screen you'd like your content to appear on and then it will go live.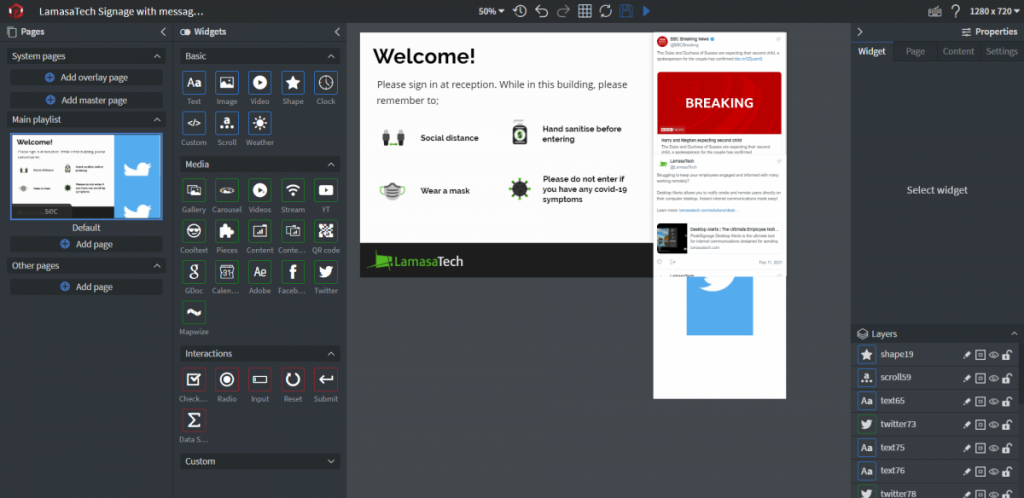 These straightforward ways of creating and displaying your content mean that you can edit what you are displaying at any time and have the changes take effect immediately. This benefits your company's communication as your screen won't need downtime as you try to figure out how to adjust the size of an image or add a new widget, as managing these will take just a few clicks.
Reliability
Reliability is one of the benefits of video walls that will offer you peace of mind. Commerical-grade video walls, such as the LamasaTech LCD video wall range, are designed to run 24/7 with lifespans of around 60,000. They require minimal maintenance or adjustments once they have been switched on. Should your screens need maintenance, if they have been attached to the surface using a pop-out mount then the screen can be removed from the front offering you much easier access to perform the maintenance required.
These video wall monitors are specially designed for continuous use which is why they can be relied on to keep running. Consumer-grade monitors, on the other hand, which have been installed to be used as video wall screens will not be able to cope with the demands of continued digital signage and tend to crash, leaving blank screens. While projectors see their image quality lower over time as the bulbs become worn, leaving you with a drained image lacking colour and brightness.
With a commercial-grade video wall, you can be sure that it will represent your business a create a professional-looking image, while you could be let down by the other two options.
If you are interested in gaining the benefits of a video wall but are not sure where to start in your search, we've put together a video wall buying guide to help. You can find the guide here.
Ready to add the benefits of a video wall to your business?
LamasaTech is a leader in digital display technology with over 12 years of experience. We support customers across a range of industries including retail, military and defence, government and public sector, technology, hospitality and education.