Find the digital signage software solution that perfectly meets your requirements.
The marketing world concurs; paper is in the past, all is now digital, and digital signage is everywhere. From the 2018 World Cup which used digital signage technology at the Luzhniki Stadium to the iconic Piccadilly Lights, revamped in 2017 with a state-of-the-art 4K LED screen and a live technology hub running cutting-edge digital signage software.
If you are a business owner or a marketing manager, finding out about digital signage is a must. You will find a multitude of different companies, many of whom claim to be free. The offers may sound tempting – "Sign up for your free trial", "Get the first three months absolutely free!" However, if the service claims to be free, there is usually a catch somewhere along the line. Nevertheless, there are good deals to be found and here are five of the best free digital signage tools that are well worth investigating.
1. DigitalSignage.com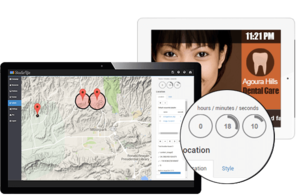 Marketing themselves as the first company to offer advanced digital signage to everyone for free, DigitalSignage.com is a browser-based solution that allows you to easily create an amazing digital presentation on your PC and share it to an unlimited number of remote screens. DigitalSignage.com genuinely offers a decent service for free as it makes money from subscribers who opt for the premium version. However, the free version still offers all the core features such as SignageStudio software and the ability to make instant updates everywhere. It's worth checking out if you are interested in dipping your toes into the world of digital signage software as you'll also have access to hundreds of pre-made templates which can save an enormous amount of time and money.
2. Screenly OSE
Screenly OSE (Open Source Edition) provides a digital signage software package for the Raspberry Pi developed and backed by its user community. You can use it to create full HD video and images on TV screens powered by a single Raspberry Pi. Usefully, the software automatically detects your TV and monitor dimensions to render your signage in the highest resolution available.
Screenly OSE is ideal for a variety of purposes, from display business metrics on a dashboard to digital menu boards in a restaurant; it can easily cope with videos, as well as web pages and images.
3. Concerto
Concerto is free open source digital signage software that was originally developed on for university students, and the intuitive software is great for small businesses.
To run Concerto you will need a database and server that can run Ruby on Rails (ROR) web applications. If you haven't got a server, you can still use Concerto but the service won't be free.
4. viewneo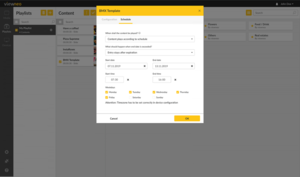 viewneo is a cloud-based digital signage software solution that is suitable for companies of all shapes and sizes. viewneo currently offers a free 30-day trial for new customers so you can create an account login in and take advantage of all the services which include automatic file conversion, a content designer, a media and template library, a playlist manager, social media integration and a live tracker. There are also interactive content features, and viewneo supports HTML5 and integrates with Microsoft Office. viewneo is easy to use and users can also access customer support by email, phone or forum if necessary.
5. Chrome Sign Builder
Chrome Sign Builder is an undoubtedly versatile tool that allows you to schedule content on Chrome OS devices to avoid blank screens between displays, as well as creating pretty impressive signages that can be instantly updated. You can use it for restaurant menus that need to be updated daily, presentations and retail displays.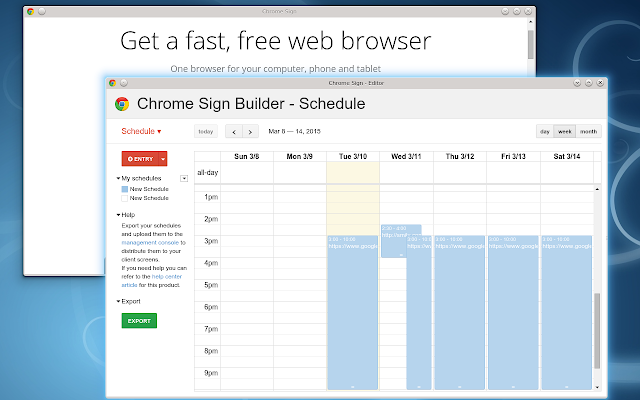 Users report that getting set up can be a bit trickier than anticipated but overall satisfaction levels with the extension are high and there are plenty of demo videos on YouTube to help. Chrome Sign Builder is completely free, but device management using a Google toolset is approximately £1.53 per device.
Never underestimate the importance of signs. They are a crucial part of your overall marketing plan and can communicate vital information to customers that can drive sales and improve levels of customer satisfaction. Digital signs are here to stay and could be vitally important to your company.
At LamasaTech we provide solutions that seamlessly combine digital signage software and hardware to meet your exact requirements. To find out more, get in touch with a member of our expert team for a free consultation.