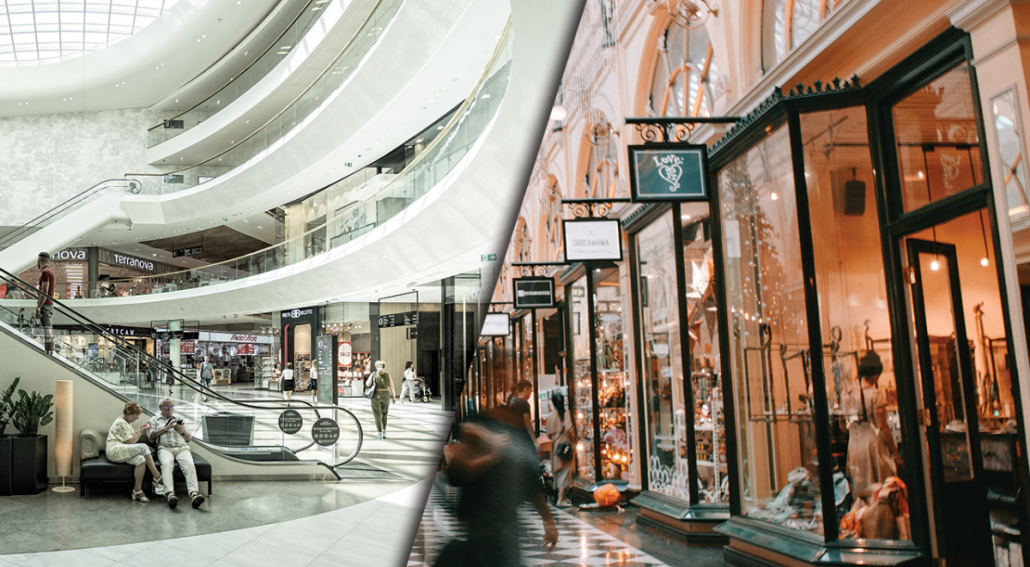 Discover the retail technology trends that are set to shape the retail space in 2019.
2019 is now well underway and eager to usher in key changes for the retail sector. Following on from last year's medley of innovation and disruption, 2019 is already looking very promising for those who can adapt quickly to retail technology trends.
If you're shaking in your boots at the thought of a bigger tech budget, you needn't be. Nobody expects holographic sales assistants on the shop floors this year – wow factor aside. And it goes without saying that a data-driven sales approach is still your best bet. Analytics is here to stay.
But you're probably curious to see the retail technology trends that leading businesses will be investing in this year. To that end, we'd like to share our report on the most promising emerging retail technology trends with you, but not before we explore some of last year's greatest transformations.
So, before we predict 2019's most exciting retail technology trends, let's take a look over the retail technology trends that had a seismic effect on the retail sector over the last 12 months.
1. Convenience, novelty, and urgency
Last year's retail landscape was shaped primarily by the fiercest of customer expectations: convenience. The shorter the purchasing journey, the more convenient it is for the customer, so supermarkets and shops continued to invest in scan and go technology, self-service checkouts, and mobile apps. The 'buy online, collect in-store' movement also gathered momentum, with customers more willing to travel and consolidate purchases. One surprising trend was what FashionUnited calls 'drops': the launch of limited edition products at select stores to create the illusion of urgency and sell out in hours, minutes, or even seconds. As some artisans and even top brands are turning away from influencers and adopting less conspicuous sales tactics, we may very well end up embracing 'drops' this year.
2. Artificial intelligence
Industries continued to invest in AI last year. Being able to process data quickly, which can then tie in with machine learning and various other technologies gives them a far deeper understanding of customer behaviour.
Take DIY shops and furniture stores, for instance. They use augmented reality apps to allow customers to visualize products in their home in real time and choose the colourways, shapes, and sizes they need for in-store collection within hours. AI helps seal the deal by offering coupons as soon as the customer's preferences are identified. And based on data from these sales, retailers can improve local inventory levels and streamline logistics across borders.
Then there are in-store devices retailers have been using this year to test lighting, ambience, sound, footfall capacity, store layout, etc. This enables them to find efficiencies, make the most of real estate, and ultimately improve the customers' experience.
3. Lifestyle marketing
For the retail industry, the future lies in the hands of the discerning millennials. As they put service above product, feelings above assets, and depth above appearance, retailers last year started to focus on ways to capture their imagination. In 2018 the onus was on retailers to deliver products look good from all angles, literally incorporating the VR movement into their stores. AI powered marketing platforms and 360° video helped customers relate with a type of lifestyle that they already had or wished they could emulate.
4. Interactive assistants
From Fifth Avenue to Soho in London, interactive fitting rooms and mirrors were in vogue in 2018. As permanent fixtures, these mirrors are not only a great way to pamper customers, but also collect feedback and data that can help inform purchasing and stocking decisions. And you have Amazon to thank for it because the e-tailing giant patented the Magic Mirror last year and launched the Echo Look soon after, paving the way for a retail revolution. Extrapolate this retail tech trend to small-scale business. What follows is static or mobile interactive assistants helping customers in store with products in similar styles but different sizes or colourways.
5. Interactive displays
Despite being a constant retail technology trend for a number of years, that interactive displays aren't the talk of the town anymore. But they've come such a long way, that it's no wonder they're still going strong in 2018. There's no comparison between Nike's exploits from 2012 or even Burberry's RFID microchip interactive display from 2013 with the kind of interaction Clas Ohlson were able to provide last year in their LabStore.
1. Personalisation
Brick-and-mortar businesses need to make things personal to sell. But personalization will take on a new meaning in 2019, and could become one of the most exciting retail technology trends this year. Personalised communication covered new ground last year as marketing automation platforms and CRM systems improved the way targeted messages are sent. But the real trend-setters are video analytics and computer vision. With the aid of facial recognition software, retailers can target individuals, rather than groups, greeting them by name as they walked in and giving them a truly bespoke service. Retailers are redefining the conversion equation with personalised promotional pop-ups that appear just as customers walk past their in-store screens and window displays.
2. Voice Search optimised retail stores
As strange as it sounds, voice technology can bring you more business rather than less, provided you embrace the technology. Fighting for voice-led search results became the norm for e-tailers last year. In 2019, it's physical stores that will be stepping up their game, trying to position themselves at the top of search results so that virtual assistants will put in a good for them. Ranking first for a product, any product, will be the ultimate goal, especially since home assistant developers like Google, Amazon, and Apple also have skin in the game. To help home assistants liaise with shops in real time, it's very likely that commercial counterparts (digital assistants specifically designed for retail stores) will become a permanent fixture on some store shelves.
3. Voice operated assistants
This year the shift away from self-service and toward a more personal kind of automated retail will bridge communication barriers for retailers. A recent study by SalesFloor shows that 84% of customers would like to communicate with shop assistants via text and email outside of the stores. Another study by Ipsos Mori shows that 25% of millennials in the UK don't even use their phones for calls; WiFi calls are far better quality. What they do use phones for is to compare prices in-store, either by typing queries in or by using voice commands. So, the dynamic is likely to change in-store in 2019 as 'less talk and more action' becomes the norm. One way to engage millennials is to build one-to-one relationships with voice technology. Retailers are bound to come up with devices that use voice interaction and then send voice commands to staff members, asking for products to be dropped off at the fitting room.
4. Fewer cards and more beacons
With Amazon Go leading the way for card-free shopping in physical stores, NFC (near field communication), mPOS (mobile point of sale), and Bluetooth technology will make quick checkouts even quicker. At the same time, as virtual wallets make contactless payments effortless, smartphones need to shift away from scanning and comparing products in-store and onto greater things: beacons. The challenge for the retailer is to differentiate between those who shop on the go and thrifty shoppers waiting for that coupon.
5. Advanced IoT tech
RFID tags will very likely be used more widely in 2019; not only to prevent product losses and inventory mishaps, but also to enable loyal customers to unlock exclusive perks. But rather than limiting themselves to RFID enabled products, customers will very likely expect the Internet of Things to be a part of every step of their shopping experience. GPS enabled trolleys interacting with electronic price labels, software monitoring B Tag tampering, and digital displays targeting high-value customers (HVC), as Intechnic suggests.
These are just some of the most exciting retail technology trends to emerge or develop in 2019. For some, keeping up with the oncoming changes will be a tall order. But that's precisely what LamasaTech interactive touch screen devices and software solutions are for: unleashing the potential of the latest technologies using techniques consistent with your brand, vision, and business goals.