With all of the digital signage hardware out there it can be tough to choose between them, but it doesn't need to be!
From video walls to dedicated signage displays and a wide array of free-standing kiosks, there's a ton of choice on the market when it comes to digital signage hardware.
Video walls
If you want to make the most striking impression possible with your digital signage, a video wall is the way to go! Video walls allow you to display your content across huge spaces and can be configured to show a huge variety of content and are typically suited to more passive, non-interactive types of content.
This expansive scope of features, combined with the physical size of a video wall solution means that there are a number of factors you need to consider before you implement a video wall.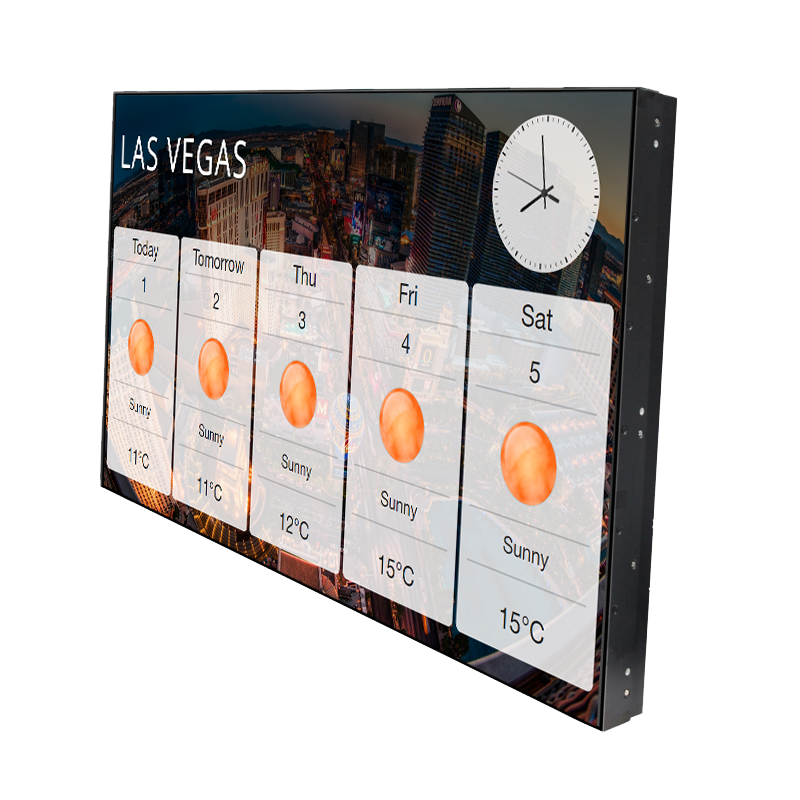 Key considerations with video wall hardware:
Bezel width
LCD video walls are typically offered with one of the following bezel widths:
These widths dictate the size of the gaps between the displays that make up your video wall and effect how seamless your content will look when displayed on them.
Location and available space
Before you invest in video wall hardware, make sure you know the exact dimensions of the space in which the video wall will be located. It's also vital to decide whether or not your video wall hardware will be attached to a wall or a free-standing floor mount.
For example, if your video wall will be more of a permanent installation it may be more beneficial and space-efficient to mount it to a wall. However, if you plan on moving your video wall around your premises or would like easy access to any of the hardware located on the rear side of the displays, a floor-standing solution may be better suited to your needs.
Content delivery
Considering exactly how your content is going to be delivered to your video wall display is vital. While you don't need to know the exact details of your hardware requirements, it's important to consider the following factors:
What kind of content will be displayed on the video wall?
What hardware will the content come from?
Are there multiple sources of content?
How frequently does content need to be changed?
Advertising displays
Somewhere between conventional TVs and tablets, advertising displays are perhaps the most versatile forms of digital signage hardware.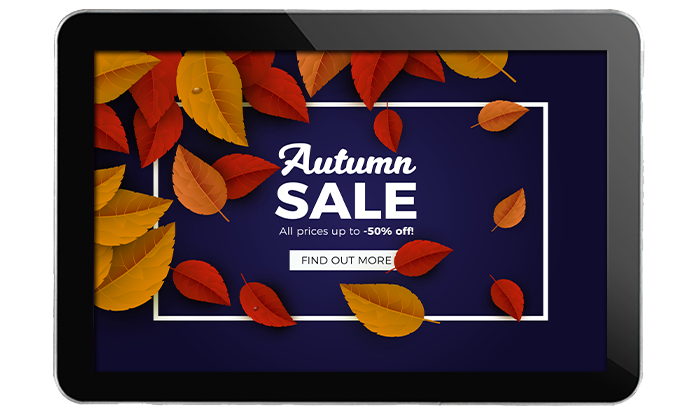 Key considerations with advertising displays
Mounting options
Because of their wide range of sizes and uses, signage displays can be mounted to suit an extensive range of different requirements. So, what's best for you? Let's take a look at your options:
Static wall mounts – perfect for passive displays that don't feature any interactive elements and function as digital posters. This is also the best option if you are eager to save space by having your display take up as little room as possible.
Adjustable wall mounts – ideal if you want to provide convenience and accessibility options to your users
Floor stand – most suitable if you want to make you want your signage display to be more of a focal point with interactive content such as a product catalog, image gallery or tourist information
Ceiling mount – great if you want functional, unintrusive signage such as timetables or safety information
Freestanding kiosks
These large, vivid displays tend to lend themselves well to bold, imagery-led portrait signage content and typically find themselves used as digital posters. They can also feature touch functionality, allowing them to be used as interactive information points.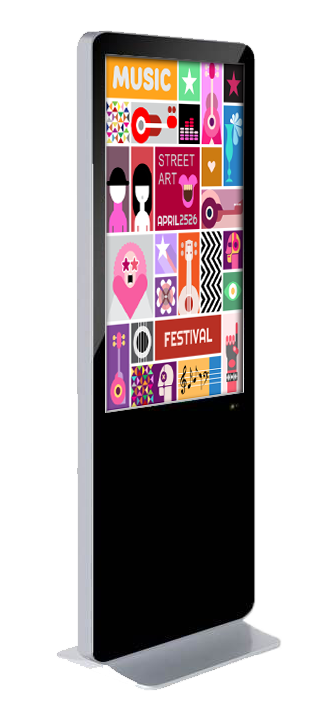 Key considerations with freestanding kiosks
Location – indoors or out?
Free-standing signage displays are frequently used both indoors and out, meaning that features – and therefore prices – can vary quite significantly based on where the display will be situated.
So, it's important to consider first where the display will be located, and second whether allowances need to be made to make the display vandalism-proof or physically locked down the floor.
Aspect ratio and content orientation
This factor boils down to which way round your content is best suited to be displayed. Typically, freestanding kiosk-style signage displays offer a portrait orientation, which is ideal for certain types of signage content. For example, these kinds of displays typically lend themselves extremely well to being used as digital poster boards!
Content distribution
As with our previous two entries in this list, it's vital to consider where your content is going to come from and how you'll manage it.
Many free-standing advertising displays are fitted with in-built PCs, allowing you to add content directly onto the device. This is most appropriate when the content you're displaying is unlikely to frequently change and can simply be set once and left for a long stretch of time.
The alternative to this is a content management solution which allows you to assign content to your display and continually update it when needed, typically requiring the hardware to be connected to the internet.
Hopefully this has helped you in choosing the perfect digital signage hardware for your needs and that you're ready to take the next steps in implementing your digital signage!
We'd love to have a chat with you about your requirements for digital signage hardware, so get in touch using the button below!